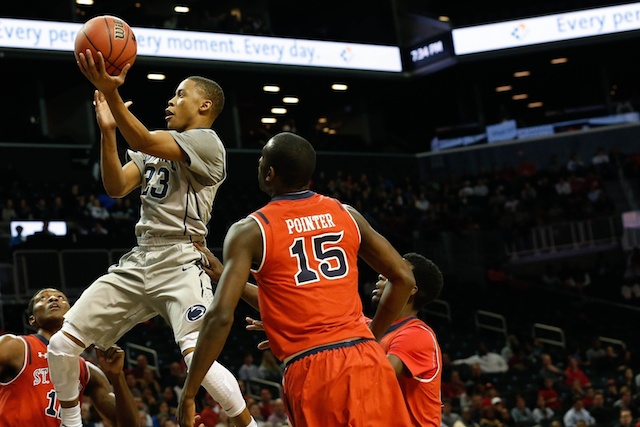 Matt Norlander:
BROOKLYN, N.Y. — Its taken 376 days for Penn State to truly believe it can be a team with attitude, composure and conviction. A confident team and, most importantly, a consistently winning one in a practical, realistic sense. And if the Nittany Lions are going to make moves within the Big Ten and win more than 12 games for the first time under Pat Chambers, it surely has to come this year.

It was on Nov. 18 of last season when PSU senior point guard Tim Frazier ripped up his left Achilles. He missed the rest of the season, of course. The NCAA granted Frazier, who has at times shown himself to be one of the more talented guards in college basketball, another season of competition. And in this, his sixth year of eligibility, Frazier's injury is proving to be the blessing in disguise for Penn State.

The Nittany Lions held off an athletic, quick, talented St. Johns team Friday night at the Barclays Center, staving off a 15-point Red Storm comeback and winning 89-82 in overtime. Frazier finished with 29 points, six assists and five rebounds. Teammate D.J. Newbill contributed 25 points and eight rebounds. He played all 45 minutes.Penn State is 6-1 for the first time in five seasons.

"Its a great win for our program," Chambers said. "Its Nov. 29. We have a long way to go here, and the scary thing is, these guys can get so much better. … For the first time we went in the locker room, there was a little bit of celebration, but not a lot. Not a lot. We expect to win games now."
via Healthy Tim Frazier has Penn State composed, built for winning year – CBSSports.com.