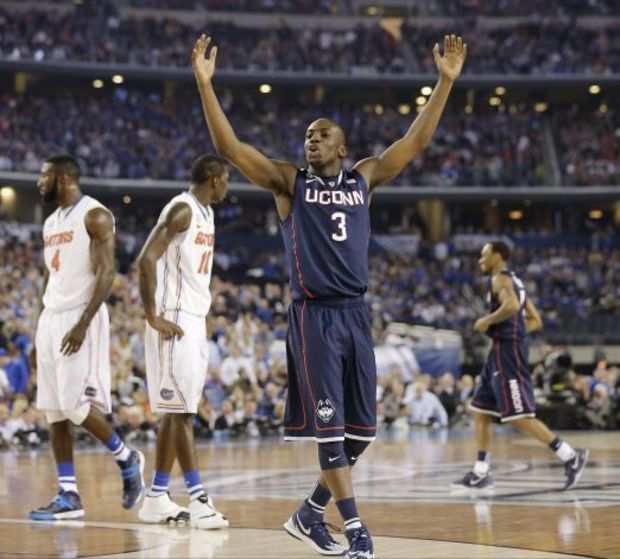 Dave Jones:
I remember vividly the first time I noticed Terrence Samuel. It was midway in the first half of his Connecticut Huskies' ugly but interesting 2014 NCAA tournament national semifinal upset of No. 1 overall seed Florida. And it's a window into the kind of player Penn State is getting when Samuel transfers in and begins playing the season after next.

At the time of Samuel's entry, UConn was trailing 16-4 with nine minutes left in the first half and had been thoroughly outplayed by Billy Donovan's national leader in defensive efficiency. The Huskies had bumbled through 16 possessions, six ending in turnovers. They needed to jump-start their offense, but how?

The answer seemed counterintuitive but it worked: More defense.

That's what the Brooklyn-bred Samuel, then a freshman, brought to the game as UConn coach Kevin Ollie switched to a triple-point-guard lineup. Teaming with Shabazz Napier and Ryan Boatright, Samuel was a dynamo, pressing the perimeter, harassing the Gators on double-teams like a jumping spider hopping around a screen door. For a 6-3 guard, he's dogged, disruptive and surprisingly quick.

In less than six minutes, Connecticut had tied the game 20-20 at the under-4:00 timeout and the game never took another significant turn. The Huskies continued to dominate on the defensive end. Florida never made a single 3-pointer after its first possession and died with a sigh, 63-53.

Samuel played 18 minutes and the Huskies were a whopping +15 while he was on the court. He was in the middle of the game's single pivot point….
Source: In UConn transfer Terrence Samuel, Penn State gets tough, defense-savvy guard with big-game cred | PennLive.com